RIATA INN RANKIN
A conveniently located hotel near Texas oil and gas companies
Welcome to Riata Inn Rankin! You can find us situated just off of Hwy 67, making our property a convenient stop for your Texas road trip and the perfect place to call home if you're working in the region. Upton County and the surrounding area has been a part of the oil and gas industry for decades, and our central location offers workers easy access to companies like DCP Midstream, Halliburton, Hunt Oil Co., and more.
In your downtime, you may enjoy a visit to the swimming pool at Tommy Workman Park or a stop at the fitness center in the Hospital District. Our highway-side location places you close to Midkiff, McCamey, Iraan, and more Texas destinations. The Rankin Museum is another great addition to any agenda, and make sure to check in with our knowledgeable team to find out about any fun events taking place at the Rodeo Arena Pavilion.
When you're ready to decompress after a long day, you'll love retreating to the comfortable, pet-friendly accommodations of Riata Inn Rankin. Each spacious room features comforts of home, including a microwave, mini-fridge, and flat-screen TV. We also offer our guests free WiFi, self serve coffee in the lobby, and an onsite laundry center to keep your wardrobe looking fresh. Our central location puts you moments away from points of interest in Rankin and an easy drive to nearby towns, attractions, and work sites. If work has brought you to the area, don't forget to enquire about our reduced rates for extended stays. You're also sure to appreciate our free parking, including space for trucks and buses.
A stay at Riata Inn Rankin not only means comfort and convenience, but you can rest assured that our team will deliver the personalized, top-rate service you deserve. Give us a call, and we can help you take advantage of the best hotel deals we have available!
Clean and Comfortable Rooms
Offering the only hotel rooms in Rankin, Texas' city limits, our property is close to to Midland, Midkiff, Big Lake, and Odessa, while still offering you convenient access to the highway. With a wealth of versatile room choices, you are sure to find accommodations to suit your needs. Whether you are visiting us with a group, the family, for work, or on an extended stay, Riata Inn Rankin has you covered.
ONE KING BED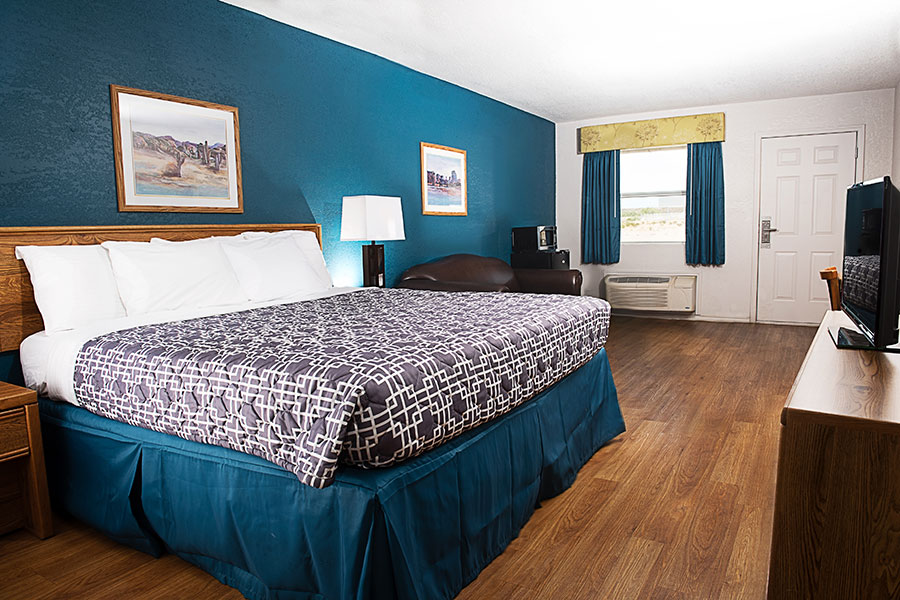 Stretch out in our King Room. Outfitted with a plush king-sized bed, a sleeper sofa, and our standard amenities like complimentary Wi-Fi and parking, this lodging in Rankin, Texas is ideal for a single traveler or a couple.
TWO QUEEN BEDS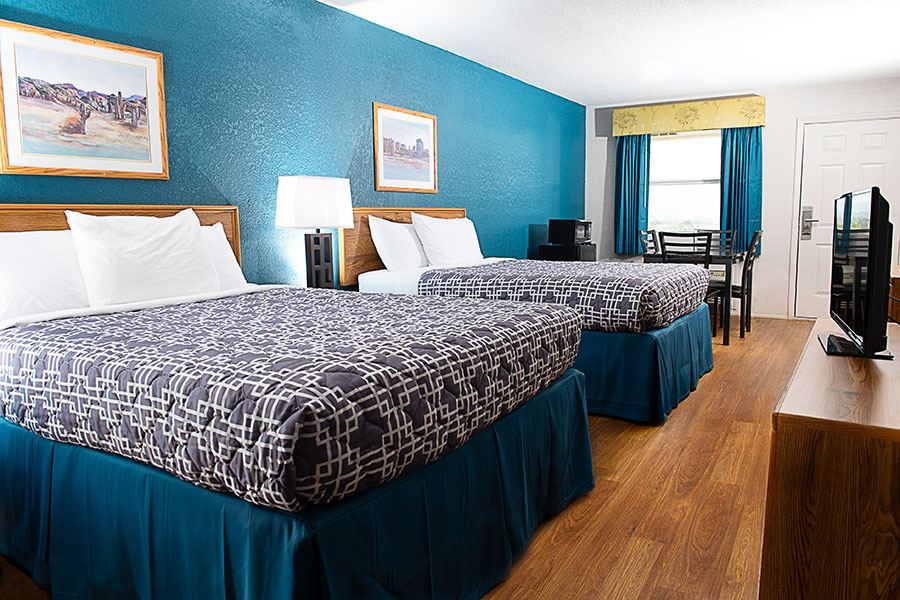 Perfect for a visiting family or a small group, our 2 Queen Room can easily accommodate 4 guests. Spend your evenings in front of the flat-screen TV watching your favorite HBO television shows. This layout can be reserved as smoking or non-smoking.